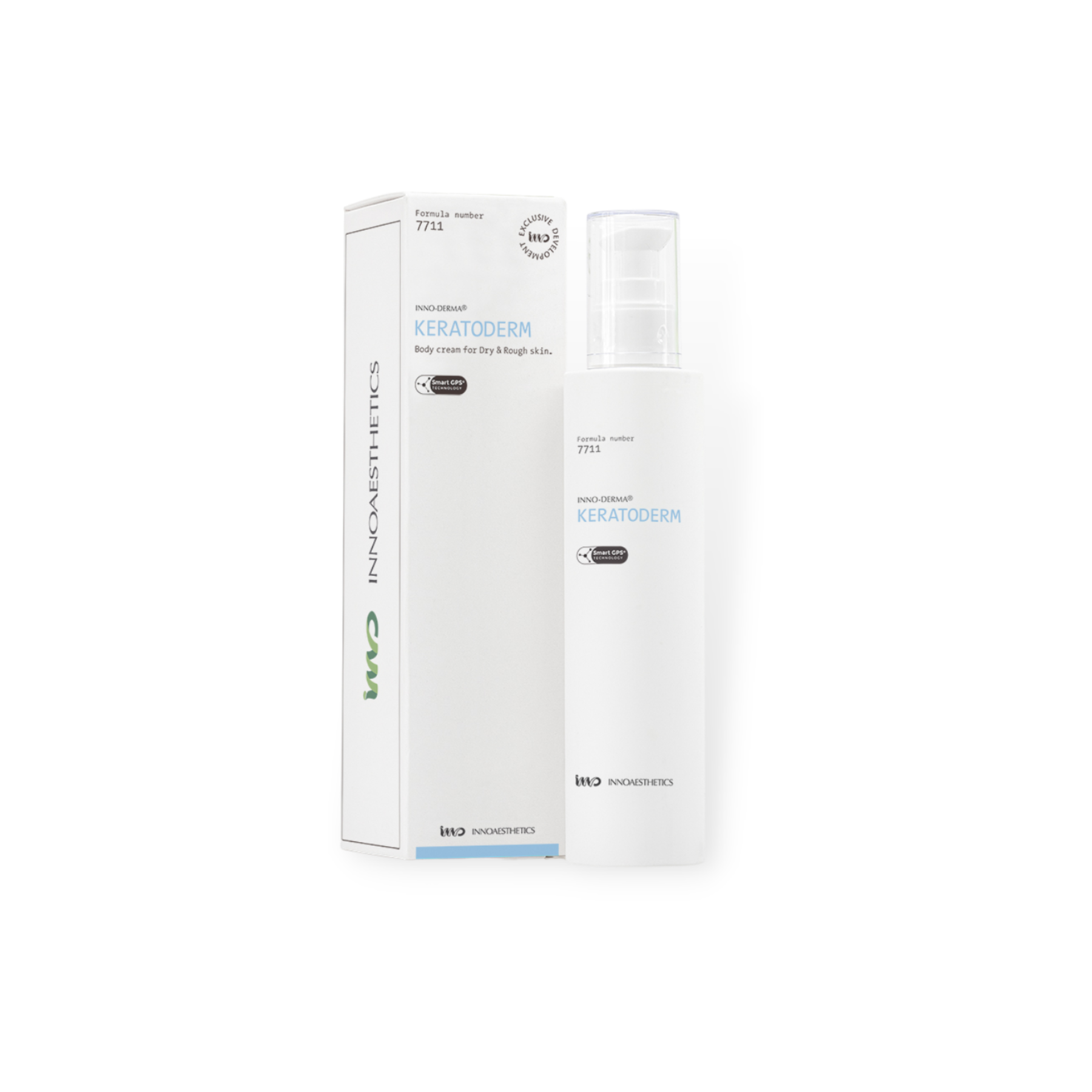 Innoaesthetics Keratoderm
Body moisturizer for keratosis, xerosis, and dry skin.
Intensive and fast-absorbing body moisturizer that deeply hydrates and nourishes very dry skin. Effectively combats and improves keratosis and xerosis conditions.
Net volume: 200 ml
Best For
Moisturizing
Restructuring
Toning
Firming
How It Works
Intense body moisturizer that promotes skin peeling and subsequent epithelialization. It maintains the hydrolipidic film in good condition and restores the epidermal pH. Moreover, the epigenetic properties of Maslinic acid firm, repair, and improve skin structure. The skin becomes smoother and softer.
Suggested Use
Apply every day on clean and dry skin and gently massage it until the product is fully absorbed.
Ingredients
Urea.

Increases moisture in the skin by softening/dissolving the keratin.

Panthenol.

Attracts moisture to the skin and holds water in the skin, allowing the skin to produce moisture and hydrate from within.

Salicylic Acid.

Helps the skin to shed dead cells from the top layer by decreasing redness and swelling (inflammation).

Maslinic Acid.
Smart GPS®.

Conveys and delivers the ingredients into a specific group of cells where they have the maximum therapeutic effect.
Innoaesthetics Keratoderm
Innoaesthetics INNO-DERMA®
A unique and patented combination of ingredients is used in INNO-DERMA® to help prevent and improve the appearance of signs of skin aging, and acne.