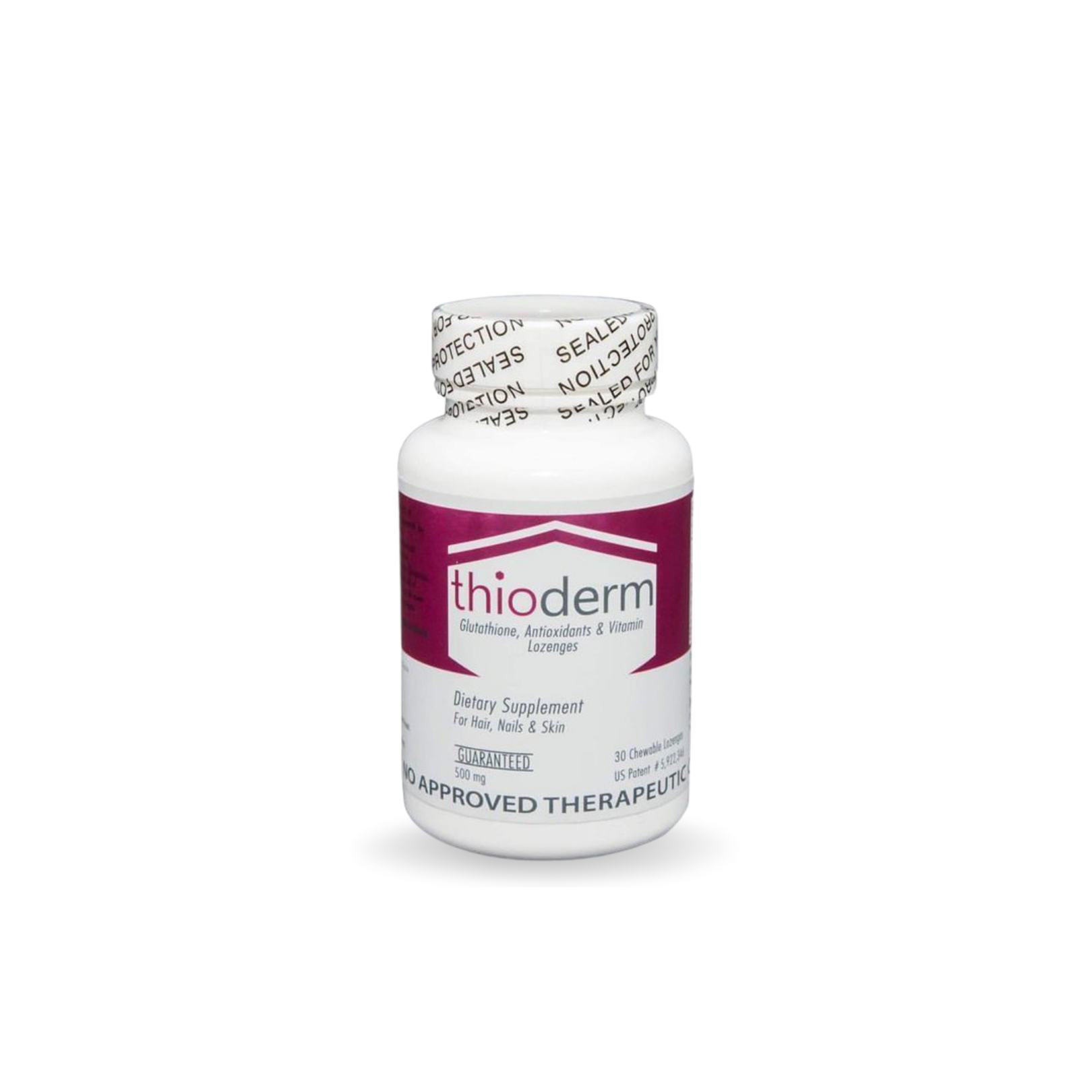 Thioderm Glutathione Lozenges
An antioxidant-rich dietary supplement for strong and healthy skin, hair, and nails! 
This antioxidant formula contains a  unique blend of glutathione and antioxidants to neutralize free radicals and nourish skin from within! The unique lozenge formula bypasses degrading stomach enzymes for optimal absorption and efficacy. Zinc Acetate, Biotin, and Inositol promote hair and nail growth to make them healthy, strong, and shiny!
Contains 30 Lozenges
Key Features
Skin whitening 

Hair and nail strengthening 

Rich in antioxidants

USFDA approved
Key Ingredients
Glutathione.

Neutralizes free radicals, protects skin cells from UV radiation, and prevents oxidative stress, revealing healthier, younger, lighter-toned skin.

Zinc Acetate.

Promotes hair tissue growth and prevents hair shedding or breakage.

Vitamin C.

Produces collagen and facilitates better absorption of iron in the intestine.

Vitamin D.

Helps the body to absorb calcium and assists cell renewal.

Vitamin E.

An antioxidant to help protect the body's immune system, cell function, and skin elasticity. 

Biotin.

Stimulates hair and nail growth. 

Inositol.

Strengthens hair cells and improves the firmness of nails.

Grape Seed Extract.

Antioxidant-rich to help promote proliferation of hair cells, support collagen and elastin production, and reduce UV-induced oxidative stress.



How to Use
Take one lozenge a day. Let it dissolve slowly in the mouth.
Ingredients
L- Glutathione, Zinc Acetate, L-Selenomethionine, Vitamin C, Vitamin D, Vitamin E, Biotin, Inositol, Grape Seed Extract.
Thioderm Glutathione Lozenges