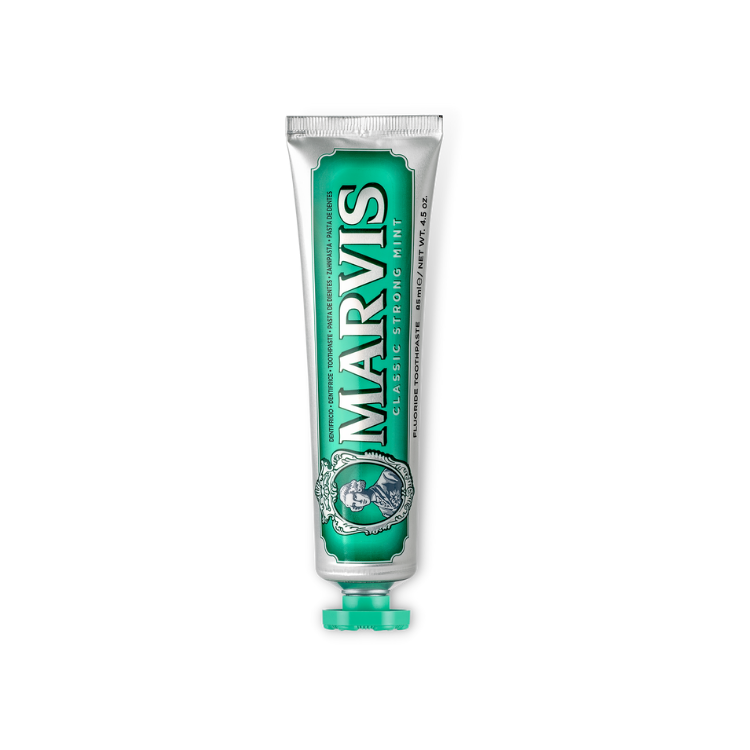 Marvis Classic Strong Mint Toothpaste
Intense, lively and unmistakable. The enticing peppermint flavor takes you to a new dimension of long-lasting freshness.
Marvis toothpaste formulas are based on a traditional processing method that guarantees a dense, compact texture, maximum protection, and an extraordinarily bright smile. The flavors are created by offsetting the aroma of mint, combining unmistakeable freshness with innovative notes to offer you a long-lasting, pleasurable taste sensation. 
Fluoride-free. Vegan. Cruelty-free. Made in Italy.
Key Features
Vigorous refreshing mint flavor 

Protects gums and freshens breath 

Prevents buildup of plaque and tartar 
Crafted with traditional methods
The Marvis Formula
White, protected teeth, long-lasting fresh breath, and with brushing, aid in prevention of tooth decay, tartar and plaque.
Ingredients
Glycerin, Aluminum Hydroxide, Aqua (Water/Eau), Silica, Aroma (Flavor), Cellulose Gum, Titanium Dioxide, Sodium Lauryl Sulfate, Sodium Saccharin, Sodium Citrate, Citric Acid, Eugenol, Limonene, Benzyl Alcohol.
Marvis Classic Strong Mint Toothpaste