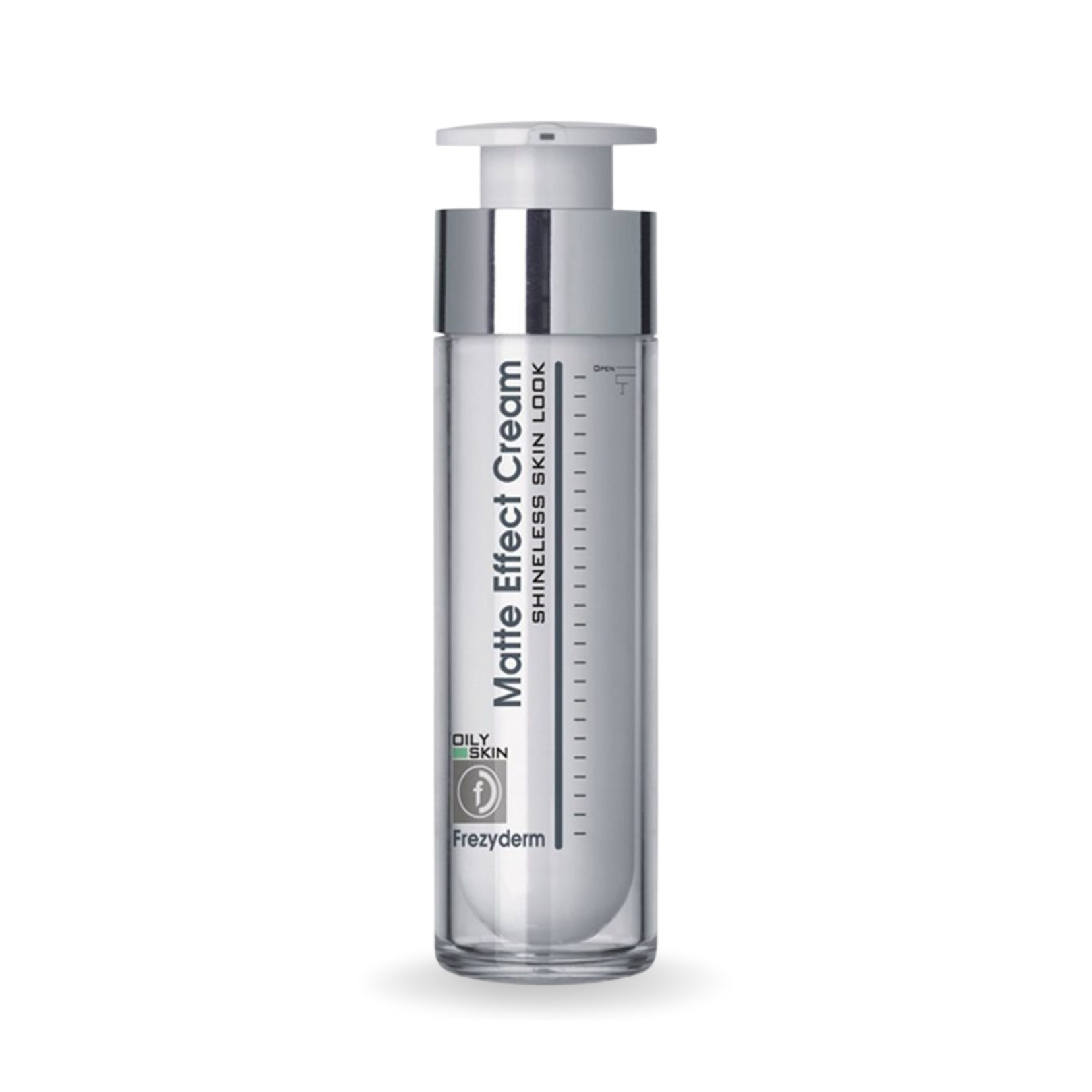 Frezyderm Matte Effect Cream
A mattifying, hydrating, and anti-aging solution for oily to combination skin! 
The Frezyderm Matte Effect Cream instantly absorbs excess sebum and reduces the appearance of fine lines and wrinkles, leaving your skin fresh for up to 10 hours. Phospholipids and red seaweed extracts protect skin from photodamage and keep it soft, smooth, and shine-free!

Net Volume: 50 ml
Key Features
Matte finish.

Prevents photoaging.

Controls sebum secretion.

Anti-aging.

Non-comedogenic.

Non-oily texture.
Key 

Ingredients
Porous matrix.

Absorbs excess oil and unclogs pores. 

Black cumin and pumpkin seed oils.

Natural oils to purify the skin. 

Phospholipids.

Promotes hydration from underneath the skin. 

Red seaweed extract.

Rich in vitamins and minerals to soften the skin and fight the effects of photodamage. 

Acetyl-Tetrapeptide-9.

Encourages quicker collagen production to visibly restore the skin's natural support and elasticity.



How to Use
For best results, apply twice daily on cleansed face and neck.
Ingredients
LMC Matrix, PM, Herbal Nylon, Oligosaccharides, Nigella Sativa, Pumpkin oil.
Frezyderm Matte Effect Cream
This moisturizer really became my go-to! For the longest time, I've struggled to find a product that would actually ease the oiliness off my face. But thanks to the Frezyderm Matte Effect Cream, my face (especially my forehead), stays oil-free, smooth, and matte! The application is super nice too as the product glides well on the skin. Definitely a product worth trying!