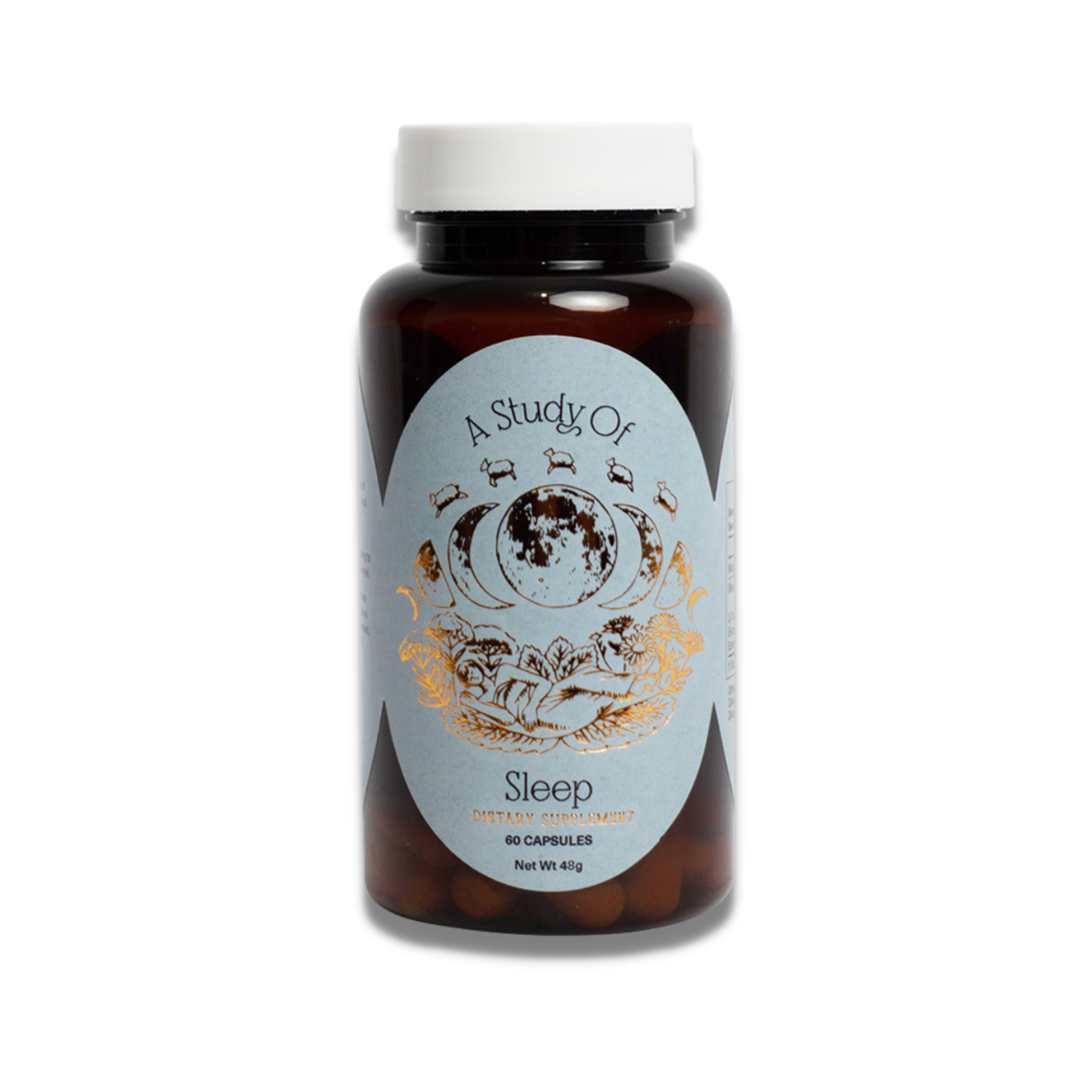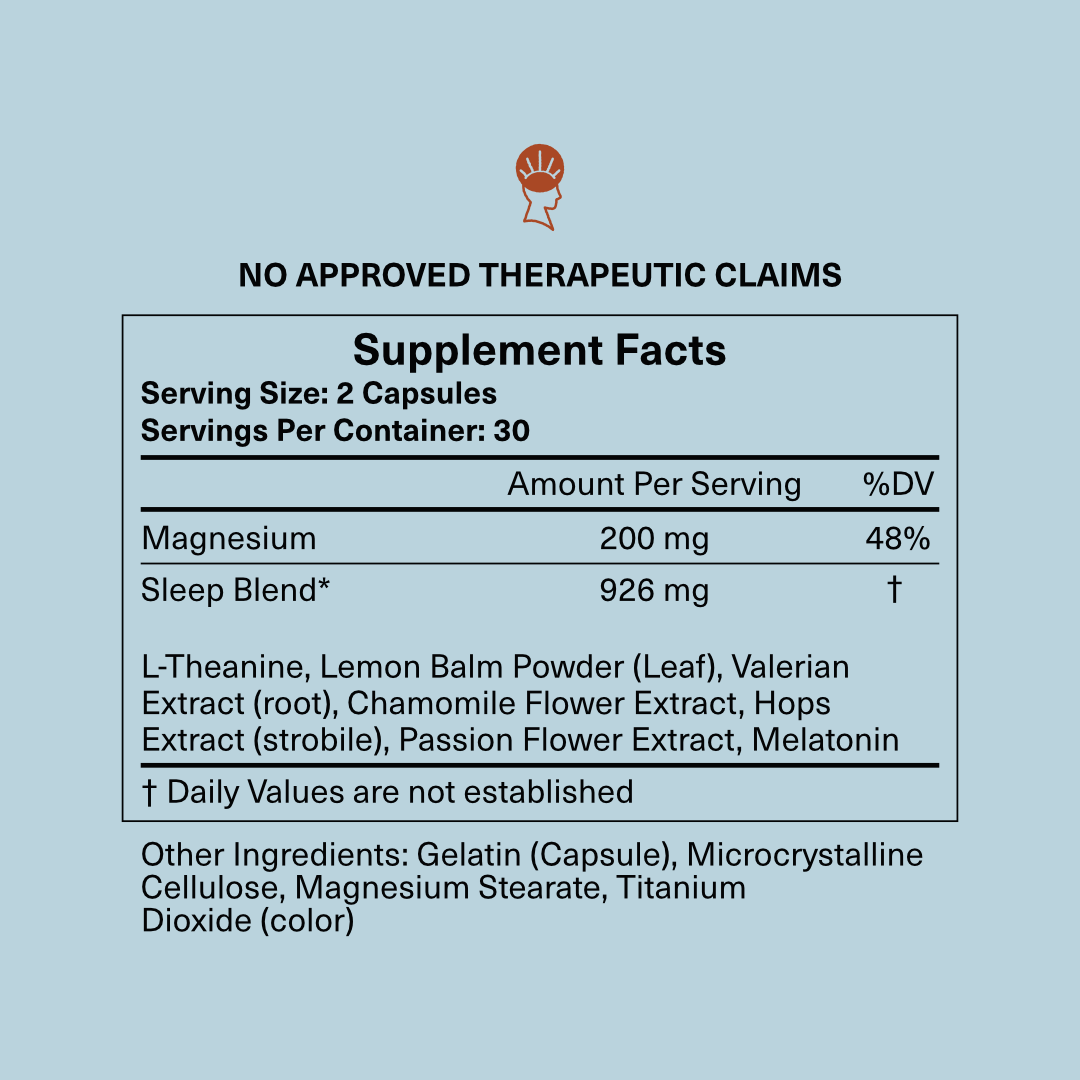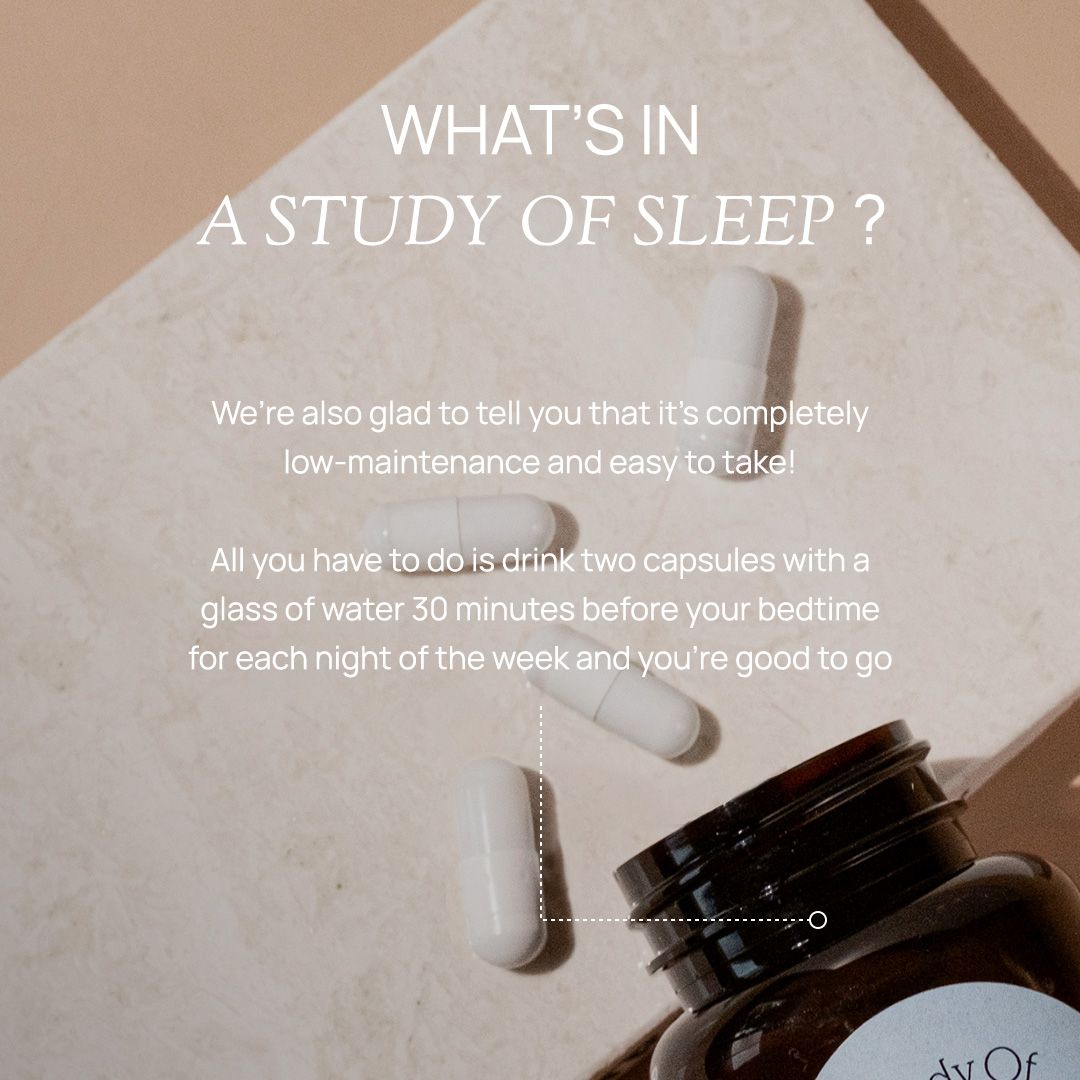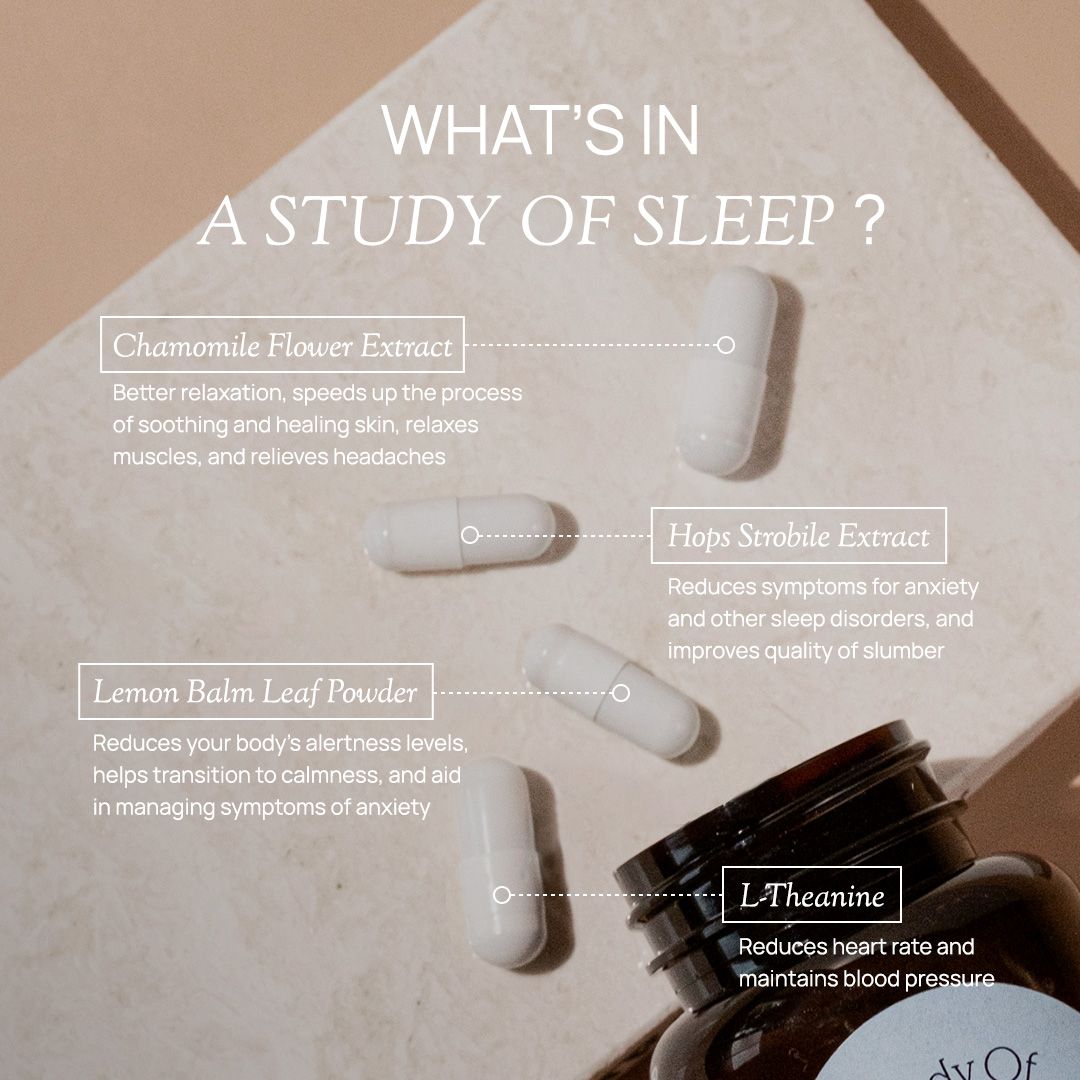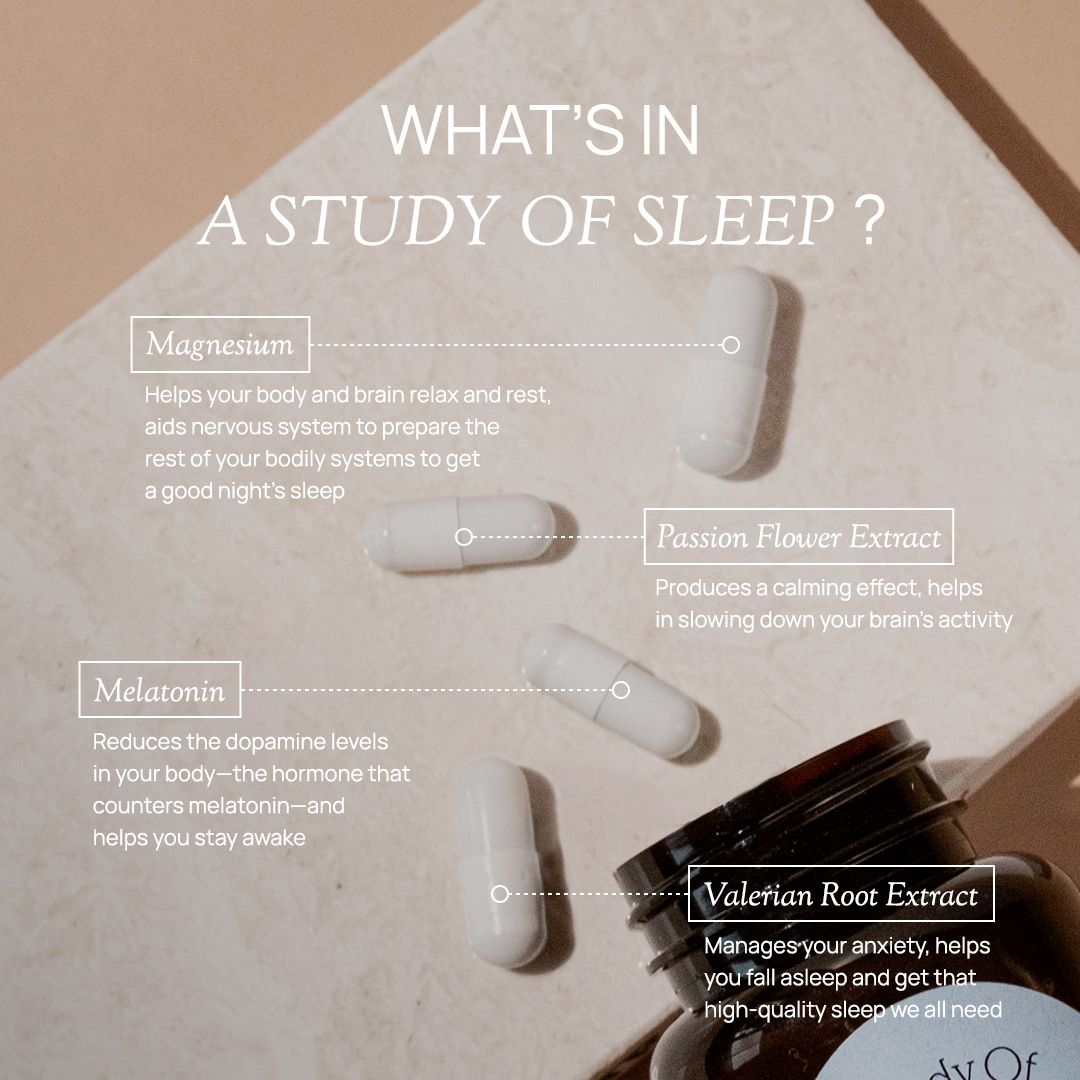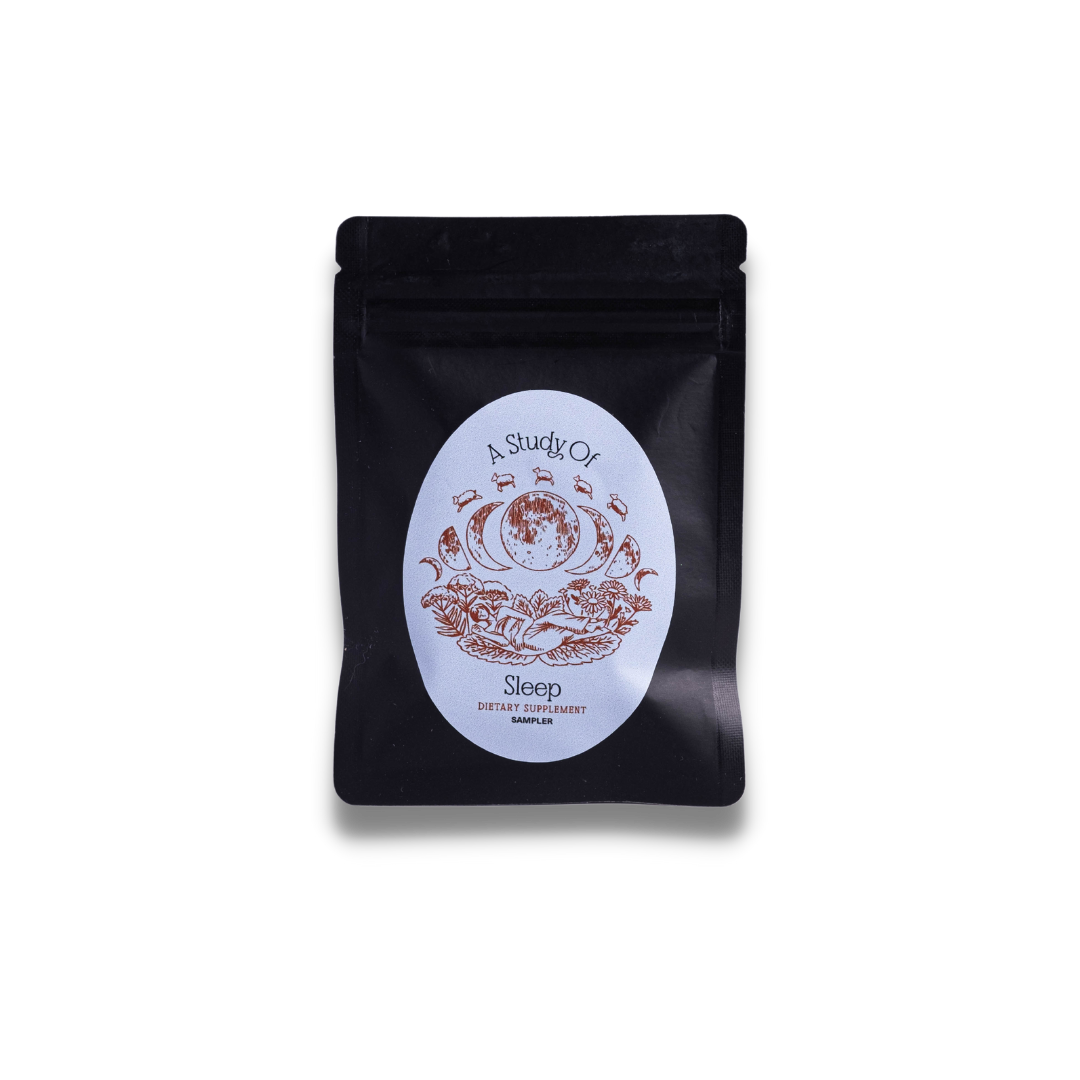 A Study Of Sleep
₱399
Regular price
₱599
Subscription
off
Better days always follow a good night's rest.
A Study Of Sleep is formulated around magnesium—a potent mineral that helps mellow out your body and mind—together with a calming bouquet of herb and plant extracts.*
Contains 30 servings
*No approved therapeutic claims
Why It Works
A Study Of Sleep's key ingredient is magnesium, a mineral responsible for regulating your muscles and nerves, not to mention more than 600 other cellular functions in your brain, heart, and other organs.
Why Magnesium?
Magnesium ups the efficacy of our formulation together with ingredients such as L-theanine, valerian root extract, chamomile flower extract, and others—each responsible for easing anxiety, restlessness, and brain activity when it's time to hit the hay.
Study the Label
| | |
| --- | --- |
| Magnesium | Relaxes your muscles and nerves while regulating melatonin to help guide your sleep cycle |
| L-Theanine | Helps increase relaxation and slow your resting heart rate |
| Lemon Balm Leaf | Potentially reduces anxiety symptoms and restlessness |
| Valerian Root Extract | Lengthens your hours of sleep and makes you feel better rested |
| Chamomile Flower Extract | Gently calms and induces relaxation with additional links to better digestion and headache relief |
| Hops Extract | Alleviates anxiety and sleep disorders, especially when blended with valerian root |
| Passion Flower Extract | Helps brain activity simmer down for a calming effect |
| Melatonin | A natural sleep hormone that helps reduce the energy-giving dopamine |
How to Study
Take two (2) pills 30 minutes before hitting the hay. 
Sleep Better, Live Better
Finding a good night's sleep has always been a struggle for me, but A Study Of Sleep has truly been a game-changer. After incorporating it into my routine for the past few weeks, I've experienced a noticeable improvement in both falling asleep and staying asleep. I'm impressed by how natural and gentle it is on my system. It has become my go-to solution for achieving the deep, restorative sleep I've been longing for.
Really effective! Works like a charm!
My sleep quality improved greatly ever since I've started taking ASO Sleep! If you're having sleep problems, you'll never regret this purchase!
Goodbye Melatonin, Hello A Study Of!
Stopped taking my melatonin supplements, and fully switched to this instead. These are absolutely great. They work as promised. I used to have insomnia, but I can sleep at healthier times now thanks to this. I wake up in the morning, feeling 100% recharged, after sleeping like a baby.
Works wonderfully for me
I am the type of person who values sleep so much. Everyday is pretty jam-packed for me since I work and study so I get pretty frustrated when I don't fall asleep right away even when I'm tired, which happens a lot. A Study Of Sleep helps me doze off at the right moment and is pretty much my lifesaver now. My new bestie!
Best Sleep Supplements for Newbies!
It was actually my first time using sleep supplements when I started taking A Study Of Sleep and I was not disappointed with the product at all. It helped me fix my body clock which I've been trying to fix for months now. Whenever I'd take it I would also wake up in a great mood the morning after. Would definitely buy again!